Let's all chant: I'm ON THE TRAIN!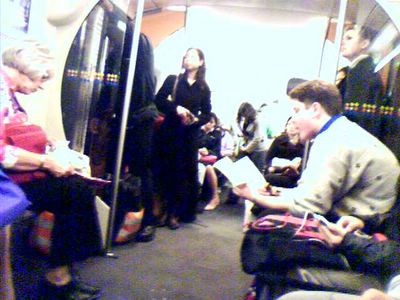 Reading is one of the joys of train travelling but rail operators are now cracking down on the use of mobiles on the train. I always laugh everytime a mobile goes off. The first line shouted down the mobile above the train noise is always stating the obvious: "I'm on the train." It is never heard at the other end so we hear the line again but much much louder: "I am ON THE TRAIN!" Thanks for that. We really wanted to share it.
Anyway, Washington's Metrorail system has put up signs discouraging inconsiderate talkers. "Yes, we're all very interested in what you're having for dinner tonight," reads one sign, accompanied by a picture of a wide-mouthed Metro rider yelling into a mobile phone. The second line says, "Please keep your phone conversations to yourself."