Kind Of Blur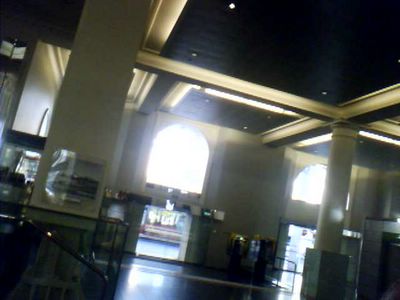 You can tell the new entrants. It was all a blur. Dressed in their shiny clothes, they looked a mix of excitement and anticipation as they waited for their first day on the train clutching their timetable in hand and occasionally alternating between glancing at their watch and checking again the timetable.
Oh give them a few weeks and they're be cynical buggas like us, mouthing off on the platform how the train is late again and laughing at the latest excuse the txt message gives for a delay.
I loved the look on their face when every new entrant first entered the classroom unsure whether to look left or right and not sure whether to sit in any unoccupied seat especially if there were already people standing (some people stand anyway). You could tell they were not used to a carriage full of people looking them up and down and staring straight at them so after a first glance, their eyes would dart around nervously not sure how to respond to all this eyeball attention.
After the journey, their comments were extremely positive:
I can't believe how fast it was..;
I got to read and relax.:
.. no traffic gridlock!
Homeward Bound
Sadly, the grumbles continued on The Brit platform about the dropping of the 5.45pm. It
really
does make a difference having to wait that extra 10 minutes for a westbound train.
If you arrive at 5.31 it's a long almost half hour wait before you leave at the later time of 5.54 and the train seemed to take forever, stopping before Newmarket for a while to await the passing of another train: I arrived home much later than I ever have which doesn't matter in the days of daylight saving but still feels like robbery. What's especially puzzling is that an express to New Lynn leaves shortly afterwards but arrived at Kingsland about 90 seconds after the 5.54pm did.
That makes no sense. Two trains arriving at the same time but you wait longer at peak hour at the Brit to catch one?
Connex, please fix.
On the iPod: Simple Minds,
Promised You a Miracle.